Volleyball, Small Fry Basketball
Sign-Ups Scheduled Dec. 7 & 14
Sign-ups for Wood County Recreation Commission Small Fry Basketball and Sunday Volleyball will be held Dec. 7 and 14 at the Recreation office in the City Park from 9 a.m. until 12 noon.
Small Fry basketball is open to boys and girls ages four through 13. They will play Saturdays beginning Jan. 4. Cost is $35 for the 10-week program and includes a t-shirt. Sites are Jefferson and Mineral Wells elementary schools.
Volleyball is a co-ed program played on Sundays at the Jack Stephens gym at Parkersburg High School. Open to girls and boys in grades three through 12 with three different divisions (elementary, middle school and high school). Cost is $40 and includes a t-shirt for the 10-week program beginning Jan. 5 and concluding with a tournament and medals.
You may register any time for these programs by going to www.woodrecreation.com website and printing out registration form to fill out and mail or drop off at City Park office. For information call 304-424-7311 ext. 203.
-
WCRC Small Fry Basketball Tournament
March 26 at Jefferson
10-12 Finals
Blennerhassett Red 32, Mineral Wells 28
Red – Anniya Powell 2, Ethan Sands 5, Tristyn Squires 11, Jackson Wingrove 3, Makiya Powell 11....
Mineral Wells – Andrew Blough 12, Colton Hertzinger 7, Chase Offenberger 7, Evan Hyson 2.
-
Championship
Mineral Wells 41, Blennerhassett Red 34
Mineral Wells – Ethan Lucas 1, Andrew Blough 23, Colton Hertzinger 6, Chase Offenberger 7, Evan Hyson 4.
Red – Tristyn Squires 17, Jackson Wingrove 5, Makaya Powell 12.
-
7-9 Finals
Blennerhassett Red 35, Blennerhassett Blue 15
Red – Addison Graham 2, Jeremiah Welch 2, Ryder Westbrook 2, Ayden Martin 2, Logan Graham 27.
Blue – Baylor Balderson 2, Amiya Powell 4, Slaton Davis 9.
50 Years of Small Fry Basketball Tradition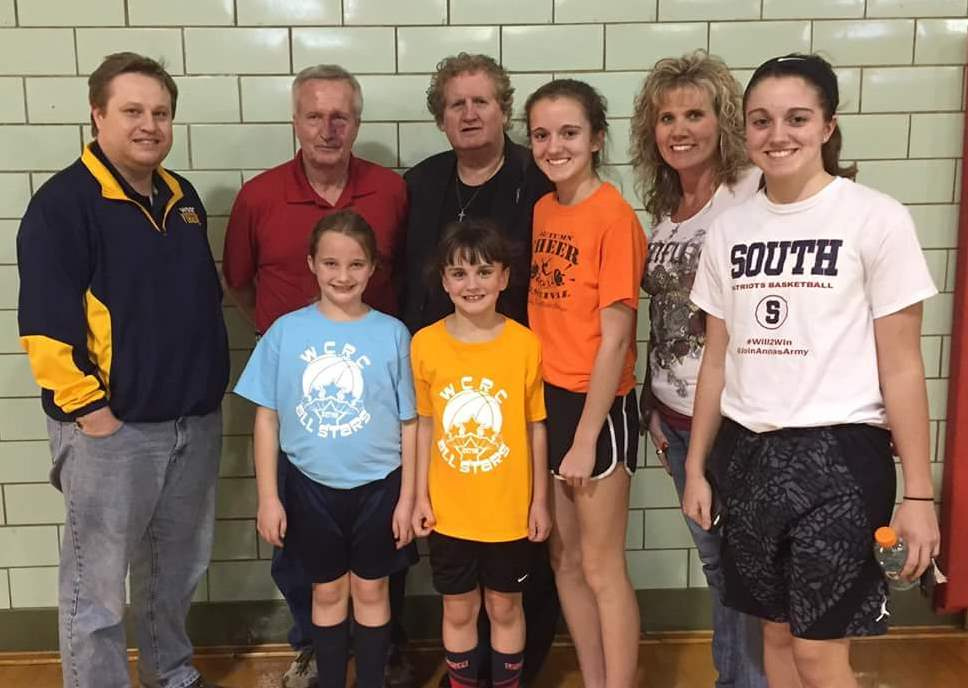 Blennerhassett Middle SchoolJefferson Elementary Kanawha ElementaryMineral Wells Elementary
10 week program
Open to boys and girls age 4 thru 13
Registration fee $35.00 T-Shirt Provided
Played on Saturdays at sites listed above
You may also stop by our office during normal business hours
or print the form off and return by mail.
Play begins Jan. 5th, 2019
Age Divisions will be determined once sign ups are complete and may vary for each site. Divisions will be set based on ages of children registered.
WCRC Small Fry Basketball
A 10-week program for fun and learning the game of basketball. The Wood County Recreation Commission offers Small Fry basketball to any area youth, age 4-13, at Blennerhassett Middle School, Jefferson, Kanawha and Mineral Wells.Registration fee is $35 and includes a t-shirt. For information contact Vickie Marshall at 304-424-7311, ext. 201 or visit our website at
www.woodrecreation.com
-----------------------------------------------------------------------------------------------