Wood County Junior Wrestling
Children ages 4 through 13 (cannot be 14 before Feb. 11, 2015)Wood County Junior Wrestling is a WCRC co-sponsored program.

Commissioner Wood County Jr Wrestling

Rick Dunbar 304-863-9861 304-615-3068 email:rick@dunbarfowler.com

Wood County Junior States Wrestling Tournament

March 7 & 8 2015
Parkersburg High School

Instructional and competitive league
Tournament competitions
Registration mid to late October
Cost to participate varies depending on where you register... please check list to your right.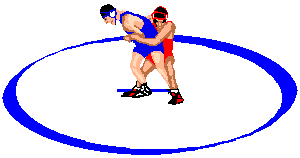 .
Teams, locations, and registration dates (WCRC will update as they become available to us through the individual locations):
Vienna Youth Wrestling
PLACE- Vienna Elementary School
DATE- October 27, 28, 29
6 pm - 8 pm
Boys and Girls 5-13 years of age
COST- $60 new signups, $30 for returning participants
Please bring recent school photo, copy of birth certificate, and sign up fee (about a 15 minute registration process)
All equipment, but shoes (not required), are provided
For further info, please contact:
Head Coach: Buddy Roberts (c) 304-615-0351
Email: VIENNA_WRESTLING05@HOTMAIL.COM
Williamstown
Signups TBA
Cost is
Coach: Mark Harris 304-483-9854
Dan Westbrook 304-375-4601 email: westbrook.d@ymail

Mineral Wells
Date: TBA
Coach: Toad Fordyce (h)489-2542 304-834-7452 email: toad@polymeralliance.com
South Parkersburg Wrestling
Signups TBA
Coach: Donnie Miller 304-480-9528 email: miller38829@yahoo.com
Lubeck
Date: TBA
Wrestling room located in building beside Lubeck school.
Coach: John Perkins 304-917-9907
Ritchie County Pee Wee Wrestling:
Coach Rick Ohl 304-643-5284 304-299-1750 email: ceocon@msn.com
Wirt County
Buddy Winnel 304-474-3510 304-916-4019 plastictycoon@aol.com
Ravenswood
Bob Staats 304-532-6836 email: jci@1st.net
Shannon Hinkle 304-273-3519 email: shinkle@wvu.edu
Warren
Chris Clatterbuck 269-720-8099
Ripley
Jerry Burdette 304-471-0544 email: jerry.burdette@veoliaes.com
Derek Ranson 304-273-3519
Belpre
Contact Rick Dunbar for Belpre contact info. 304-863-9861 304-615-306
Wood County Recreation Representative: Vickie Marshall, Director 424-7311 x201;
Steve Clegg 304-424-7311 x 202