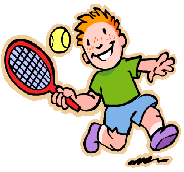 Summer Tennis Program
June 17 to July 24
at City Park Tennis Courts
Open to boys and girls ages 5-18
Mondays, Tuesdays & Wednesdays
Schedule will be available
Cost: $35 includes t-shirt
Offers hands-on, one on one instruction with qualified, caring tennis instructors.
Required Equipment:
Tennis racquet suitable for your child's age, size and playing ability
Tennis Shoes
Comfortable clothing - light colors that do not draw heat
Personal water bottle
Registration forms available at Recreation office in City Park.
Wednesday Tennis Rescheduled for Friday June 21 at same times
-
Summer Tennis City Park Times
The WCRC Summer Tennis Program at City Park will begin Monday, June 17 at 9 a.m. You may still register by showing up at designated times for your skill level. Cost is $35.
Beginners: 9:00-9:45 – Charlie Pahoundis, Avery Guice, Zander Duncan, Gavin Gallagher, Kenzie McPeek, Simon Paff, Gavin Smith, Lakin Vaughan.
Beginner/Intermediates: 9:45-10:45 – Alexis Alford, Riley Ball, Daniel Braniff, Christopher Cobb, Malakai Collins, Katelyn Dugas, Cidney Duke, Ciera Duke,
Isabella Guice, Brooke Hall, Pheobe McPeak, Nate McPeek, Jamilah Munsayac, Grant Murphy, John Osborn, Tristan Showen, Tripp Williams.
Intermediate/Beginners: 10:45-11:45 – Ava Boggs, Soraya Brown, Jonathon Cobb, Jayden Ervin, Thomas Lindenmuth, Sawyer Lucas, Jenny Nguyen, Ally Pyles, Emma Stanley, Dominic Strcula, Josi Williams..
12:00 Advanced/Intermediates (times will vary depending upon the day) Alayna Boggs, Levi Geary, Lincoln Geary, Brandon Gray, Aaron Grose, Caleb Lindenmuth, Alex Marshall, Christian Marshall, Mick Pyles, Joe Taylor.
Times subject to change after evaluating skill levels. Picture day is June 24.
"Click to edit. Insert a customer recommendation, a client thank you note, or a quote you find inspirational to your business. Show visitors you are a reliable company, and add a little personality to your website."
Customer Name