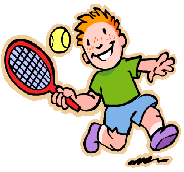 Summer Tennis Program
June 15 to July 22
at City Park Tennis Courts
Open to boys and girls ages 5-18
Mondays, Tuesdays & Wednesdays
Schedule will be available
Cost: $35 includes t-shirt (scholarships available)
Offers hands-on, one on one instruction with qualified, caring tennis instructors.
Required Equipment:
Tennis racquet suitable for your child's age, size and playing ability
Tennis Shoes
Comfortable clothing - light colors that do not draw heat
Personal water bottle
Registration forms available at Recreation office in City Park.
Summer Tennis City Park Times

The WCRC Summer Tennis Program at City Park will begin Monday, June 15 at 9 a.m. You may still register by showing up at designated times for your skill level. Cost is $35.
Beginners: 9:00-9:45
Beginner/Intermediates: 9:45-10:45

Intermediate/Beginners: 10:45-11:45
12:00 Advanced/Intermediates .
Times subject to change after evaluating skill levels. Picture day is June 22.
"Click to edit. Insert a customer recommendation, a client thank you note, or a quote you find inspirational to your business. Show visitors you are a reliable company, and add a little personality to your website."
Customer Name